It was a very cold and very snowy night, yet many Mercer Bulldogs braved the bad weather for the third annual Practice with the Princeton Tigers Hockey Team at Princeton University's Hobey Baker Rink on Saturday, December 14, 2013. While the players got ready in the locker room, a few early fans were able to catch the Princeton Tigers warming up and even singing some Christmas carols on the ice!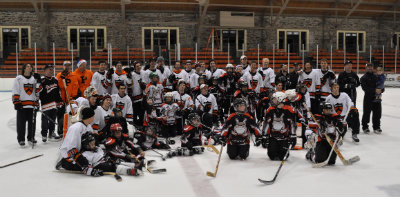 Once everyone got on the ice, the action started right away! The Princeton coaches set up games and activities for all of our Bulldogs to enjoy – and we think the Tigers enjoyed them, too! At one end, a fast and furious "half ice" game was played using mini nets. In the middle of the ice, obstacles and mini nets were set up for beginner players. And on the the other end end of the ice, the Princeton Tigers and Mercer Bulldogs tried their luck against goalies on the big nets. It wasn't just pucks being shot around, a soccer ball and tennis balls were also flying around the rink to help Bulldogs improve their balance, footwork and shooting skills.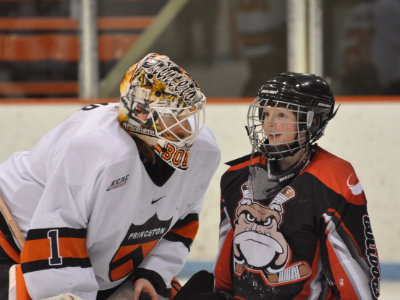 Throughout the ice, the Tigers were happy to offer piggy-back rides and chair rides to all the Bulldogs, and some of our Bulldogs even returned the favor by pushing the Tigers around on the chairs!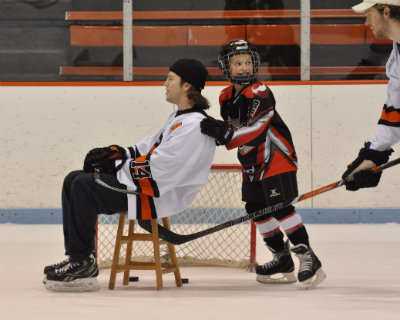 Hockey players are fierce warriors, and won't let anything distract them, even when they lose a tooth during the game. Some even consider it a badge of honor. Our own Calvin B. was no exception as he lost one of his baby teeth on the ice! Thankfully, it was very wiggly for days before this practice, and not the result of a fight or a fall.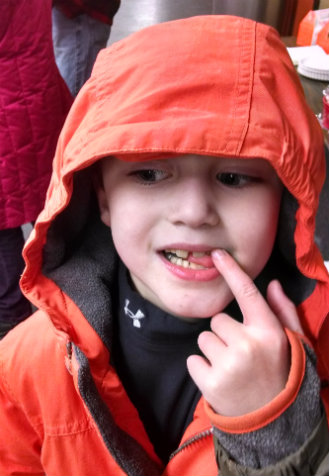 After practice, everyone hung around for snacks and a pizza party. The Tigers and Bulldogs really worked up their appetites, because the huge mountain of pizzas disappeared in minutes!
Huge thanks Coach Bob Prier, Equipment Manager Matt Conti and all the Princeton Tigers for continuing this awesome tradition and putting smiles on everyone's faces! This is truly the event that all of the Mercer Bulldogs look forward to every year!
Want to see more? Click here for event coverage on MidJerseySports.com There is even a great YouTube video highlighting the evenings events.